Tabular Data
Do you find it frustrating to spend so much time extracting data from tables in PDFs or images? Well, you can stop dealing with the boring and time-wasting job of entering data. Instead, welcome to our AI-powered REST API solution. Our cutting-edge artificial intelligence technology empowers you to effortlessly extract data from tables, whether they're embedded in PDFs or images, with unmatched accuracy and efficiency. In addition, the results will be provided in a convenient JSON format.

FIG:Sample Input
Our REST API solution harnesses the power of advanced machine learning and optical character recognition (OCR) techniques to intelligently locate, analyze, and extract data from tables. Our REST API offers seamless integration, making data extraction a breeze. Upload a PDF or image containing the table you want to extract data from to our REST API endpoint. Our APIs automatically identify tables, ensuring accurate data extraction. Our advanced algorithms analyze the table's structure, columns, and cells, capturing every piece of data. Integrate Artificial Intelligence enabled APIs into your workflow for scaled data extraction.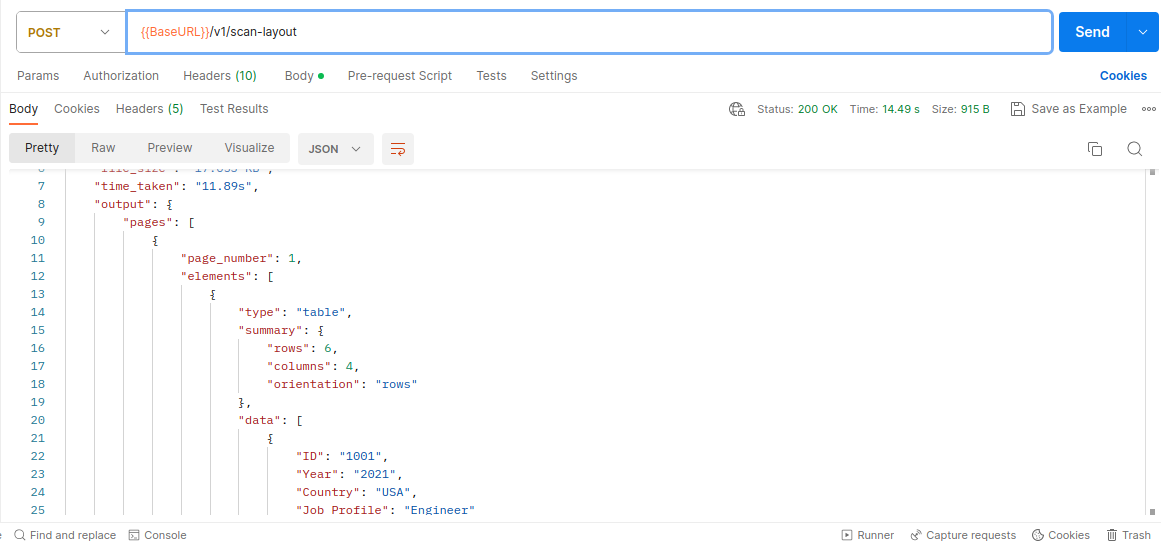 FIG:Postman Screenshot
FIG:Sample Output
Our APIs enable seamless integration into your applications and systems for bulk document processing. Automate the extraction process and receive the results in JSON format for easy integration into your existing workflows. Our solutions are used in various industries, including:
Insurance

Banking and Finance Sector

Healthcare

Education

Government and BPOs

Transportation and logistics
Contact us today, or click here to subscribe and start extracting data from your PDFs and Images.